Viscom presents future-oriented inspection solutions in the smart factory
Dear Mr. Nordman,
We invite you to the SMT Hybrid Packaging show, taking place from 5th until 7th June in Nuremberg. With our brand-new developments, Viscom enables a consistent reduction of real defects and prevention of false calls in electronics production – for the best FPY results!
At this year's SMT, we will present these innovations to you:
Manual X-ray inspection with Cobot: The intelligent cobot operates the manual X-ray system with high precision. As a collaborative robot, it relieves employees to support the process, especially for random sample and prototype analyses.
International prize-winning innovation establishes itself as future standard: The combined 3D AOI/3D AXI system X7056-II fulfills the shortest cycle times and outstanding inspection results for automatic in-line inspection. Thanks to the ultra-modern 3D technology, slice images are realized in a superb quality.
Internet of Things (IoT) in the SMT line: You can call up real-time analytical reports from our SPI, AOI and AXI systems in real time on your mobile phone or tablet. The IoT-linked inspection systems deliver information about overall equipment effectiveness, unit counts as well as the live data stream showing actual events occurring on the machines. Viscom is a partner in this latest IPC project – the Connected Factory Exchange, in short: CFX. This project offers the first-ever open cloud-based platform for all machines in the SMT process.
The next stage in evolution of ultra-fast 3D AOI inspection: The new double track inspection system is conceived for high-volume production of demanding electronics. The shadow-free 3D solder joint inspection delivers true-to-life 3D representations in 360° perspective, to ensure unequivocal verification results.
Talk to us about your current and future requirements and inspection tasks. To arrange an appointment with your responsible Viscom expert, just send an email to smt2018@viscom.de.
Your free guest ticket to SMT Hybrid Packaging 2018:https://www.viscom.com/fileadmin/user_upload//viscom/_global/downloads/others/Voucher.pdf
We look forward to an enjoyable conversation with you in Nuremberg!
Kind regards
Torsten Pelzer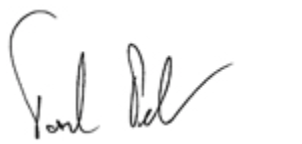 Vice President Sales
Viscom AG